"Incredible things in the business world are never made by a single person, but by a team."
– Steve Jobs
The pharmaceutical industry forms the gritty backbone of healthcare systems across the world. It is an industry continually engaged in research to innovate newer healthcare solutions and aims to provide advanced diagnostic and cure options to mankind. As of end-2020, the total global pharmaceutical market was valued at about USD 1.27 trillion.
India enjoys an important position in the global pharmaceuticals sector. Its domestic pharmaceutical market which was estimated at USD 41.7 billion in 2020 is likely to reach USD 130 billion by 2030, with a CAGR of 12%.
To grow to such dimensions, any industry requires a firm foundation, and the means to build a strong composition over it. The latter, in essence, is what business development is - the creation of long-term value for an organization from customers, markets, and relationships, nurturing and acquiring new clients and business opportunities to drive growth and profitability by building strategic partnerships and making strategic business decisions, and driving ideas, initiatives, and activities that help make a business better.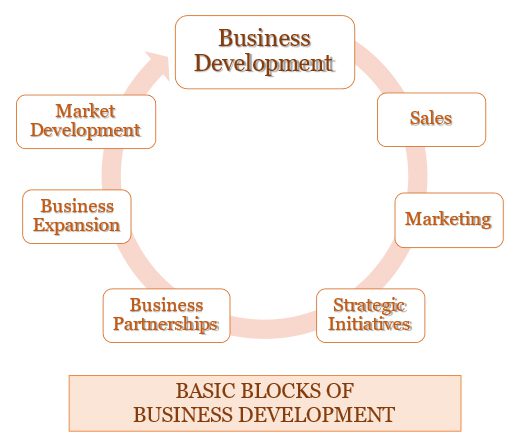 Business development primarily constitutes the basic business blocks - sales, strategic initiatives, business partnerships, market development, business expansion and marketing. Additionally, it is classified into different divisions in order to meet the needs of the various growth phases of a project or a company. These divisions include- alliance management, project management, portfolio management and program management. All these divisions, when functioning smoothly and in sync, drive the business ahead as a whole.
We will now give a sneak peak of what each of these divisions mean –
Alliance management is focused on ensuring that a close collaborative relationship prospers between two or more independent entities that share complementary assets and strengths. In the pharmaceutical industry, the role of an alliance manager is a relatively new one and has arisen with the need of the industry to broadly collaborate instead of relying solely on its own R&D pipeline. It is connected to the increasing number of partnerships from new product concepts to licensing deals or potential mergers and acquisitions driven by the need to develop new products quickly, to reduce costs and gain access to new markets while limiting the risk exposure.
Project management comprises managing projects within established requirements to deliver on time and on budget. It goes from planning a project giving the smallest details, to its execution. Pharmaceutical project managers oversee drug development from start to finish. They identify any technical requirements, set timelines and budgets, oversee other team members and create reports. At the same time, they have specialized expertise in the life sciences and regularly collaborate with biochemists and other scientists on the creation of new products. Their responsibilities include creating status reports for management, ensuring compliance with regulatory bodies, evaluating the project risks, specifying project plans, establishing work schedules, keeping meticulous research records, and gathering project resources.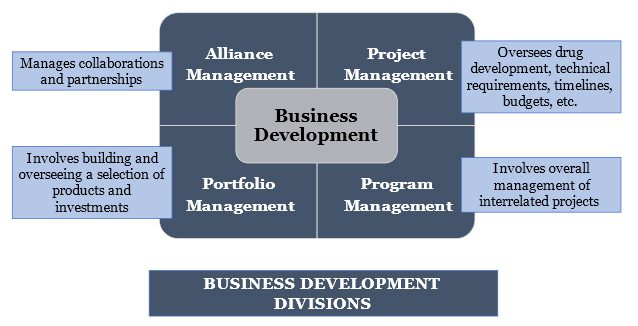 Program management is the application of knowledge, skills, tools and techniques to meet program requirements. It is the overall management of the interrelated projects that make up the program. Pharmaceutical program managers possess both technical and commercial inclinations – a talent pool of chemists, pharmacists and project management professionals make up this division. Program management often provides a layer of governance above specific projects and ensures that they are run effectively.
Communication with the stakeholders and overlooking the programs while maximizing the program savings and maintaining quality is key for a program manager.
Portfolio management is the selection, prioritization and control of an organization's programs and projects, in line with its strategic objectives. It involves building and overseeing a selection of investments that will meet the long-term financial goals and risk tolerance of the company. This division has been embraced by the pharmaceutical industry because of the unique characteristics of drug development, huge investments, long development timelines, high risk character, and need for several products in the pipeline. It is about selecting the projects to be funded, how they should be funded, and which ones should be aborted.
A project will be planned and executed by the project manager. Many such projects will be overseen by the program manager. The alliance manager, in compliance with the project and program managers, will make sure that the alliances with other companies are functioning evenly. The portfolio manager will refine the overall image of the company and work on keeping its assets and strategies in place for long-term benefits. Thus, business development is an amalgamation of individual smaller heads under it. Business development system, once identified as a necessity, is as important to a business as a breath is to life.
As the pharmaceutical industry continues to gain momentum and new players join this race continually, the need for efficient business development gains more emphasis. Keeping up with the market, planning ahead, managing cash flow and finances, problem solving, employing the right systems, staying up-to-date and being adaptable to change are some of the unchanging pillars of business development. Furthermore, with growth come a fair share of challenges. From workforce expansion, growing customer needs, complying with regulatory authorities, inventory and supply chain management and new competitors, to the constant need for innovation and growth, it is a race which requires resilience and close-to-perfection methods. To help with this herculean task, a team of competent business development managers is very critical and is indispensable for pharmaceutical companies.
Business Development is thus an interesting career option that pharmacists can delve into and to utilize their skillsets while staying in touch with their domain expertise and technical abilities.
References:
1.
www.statista.com/statistics/263102
2.
www.businesstoday.in
3.
www.forbes.com/sites/scottpollack
4.
www.investopedia.com/articles
5.
www.pharmoutsourcing.com/Featured-Articles
6.
www.pmi.org/learning/featured-topics/program
7.
www.piramalpharmasolutions.com/program-management
8.
https://www.infoentrepreneurs.org/en/guides